That is Greek food for the ancient Greek gods. During this year, we have really enjoyed ending our history units in certain areas with a dinner that included food from that time or area. As we finished up our Ancient Greece unit today we had a feast to expose everyone to some new Greek flavors and foods. Today's menu was actually many things we would have eaten regularly at home, but the goal was to get them to connect the time period with the foods and flavors, the culture and the geographic area. So as the ancient Greeks might have been more likely to eat camel than chicken, chicken is what I had and what the kids will eat, so chicken is what we served. I see this as a very practical application of our history study.
There were some great sources online for ancient Greek food and lots of yummy looking recipes to try in the future! Metric measurements can get tricky, but there are online measurement conversion tools to use.
http://www.greek-recipe.com/static/ancient/index.html
Plus I have to mention this fabulous
Greek food blog
from SAM SOTIROPOULOS.
Loukoumades - Official doughnut of the ancient Greek Olympics
He has so many great recipes, tips and insights that I really enjoyed. Plus he has a whole set of ancient Greek recipes. Most of them I did not have the time or correct ingredients to make, but I will try them later. My favorites were the history of the Greek pancake:
Tiganites
and I really want to try the official ancient Olympic doughnut:
Loukoumades
. The great thing about his blog is that he serves up a healthy dose of history with his recipes!
So for our feast, we had the following:
Meze (appetizer) Honey Marinated Feta
From
My Greek Recipes
This recipe for honey marinated feta cheese is 4000 years old and found engraved on old stone slabs at Crete. It comes from Aud Thorstad, who runs cooking classes in her home, a restored mill in the village of Hamalevri at Crete - check out Kretamat.
You need:
• 200 gram/7oz feta cheese
• 50 ml/2oz honey (Aud uses liquid Cretan honey, while I tried with honey from Thassos - and it worked well)
• Two table spoons olive oil
• One tea spoon thyme
• 100 ml/4oz walnuts
• Black olives
Mix the ingredients for the marinade. Add cubed feta cheese. Mix carefully and leave for at least half an hour.
Serve as meze.
Entrée: Marinated Grilled Chicken With White Wine, Garlic and Lemon
(from
Food.com
and the June 2006 issue of Coup de Pouce)
with Orzo Pasta
Ingredients:
• 2 tablespoons Italian parsley, finely chopped
• 2 Tablespoons fresh oregano, chopped
• 1/4 cup dry white wine
• 1/4 cup olive oil
• 1 lemon, juice and zest of
• 2 garlic cloves, finely chopped
• 1 tablespoon black olives, finely chopped
• 1/2 teaspoon sea salt
• 1/2 teaspoon fresh ground black pepper
• 1 1/4 lbs boneless skinless chicken breasts (4 )
Yogurt and Garlic Sauce
• 1 cup plain yogurt
• 1/4 cup sour cream
• 2 tablespoons fresh parsley, finely chopped
• 1 garlic clove, finely chopped
• salt and pepper
• 1 In a glass dish not too deep, mix all ingredients, except the chicken breasts and yogurt and garlic sauce. Add chicken breasts and flip to coat well. Cover the dish with a plastic wrap and let marinate in the fridge for 2 hours.
• 2 Set the barbecue to medium-high heat. Put chicken breasts on a greased grill (keep the marinade), close the cover of barbecue and cook for about 7 minutes (baste the chicken breasts with the marinade a few times). Flip the chicken breasts and keep cooking for about 5 minutes or until the chicken is golden and not pink inside. Serve with yogurt and garlic sauce.
• 3 Yogurt and Garlic Sauce : In a bowl, mix yogurt with sour cream, parsley, garlic. Add salt and pepper. Cover and put in fridge for at least 4 hours.
Cook up some orzo pasta as a side!
Veggie: Briami (Roasted Greek Vegetables)
from
Ultimate Guide to Greek Food
You could use any vegetable/herb combos, but this is what we did!
Ingredients
6 large tomatoes
3 medium potatoes, peeled
3 medium red onions, peeled
3 medium zucchini
2 sticks celery
3 tablespoons fresh parsley, chopped
2 tablespoons fresh dill, chopped
3 cloves garlic, crushed
120 - 150ml olive oil
salt, pepper
Preparation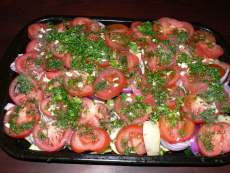 Oil a large baking tray.
Thinly slice all the tomatoes and place half of them in a single layer on the bottom of the tray.
Cut the potatoes and onion into wedges.
Slice the celery into 2 or 3cm lengths.
Slice the zucchini lengthwise in half and then slice into 2 or 3cm lengths.
Add these vegetables on top of the tomatoes.
Place the other half of the sliced tomatoes on top.
Over the tomatoes, sprinkle the crushed garlic and chopped herbs.
Season with salt and pepper.
Drizzle the olive oil all over the top.
Place the baking tray, uncovered, in a hot oven and bake for about 40 minutes.
Remove the tray from the oven, stir the vegetables so they are all mixed well with the tomatoes and herbs.
Return to the oven and cook until the roasted vegetable are cooked.
This will depend on your oven, but allow approx 40 minutes to 1 hour.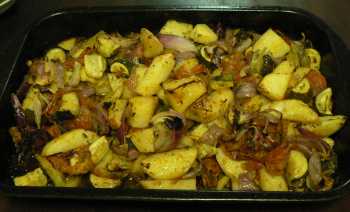 Serve.
Ancient Honey and Sesame Fritters
NOTES
It is amazing how little this recipe has changed 1800 after. The Roman Physician Galinos (129 – 99 ac) describes in his book this sweet with many details.
Source:The Classical Cookbook, Andrew Dalby and Sally Grainger.
Excelent source regarding Ancient Greek cuisine
Greek : Αρχαίες τηγανήτες με μέλι και σουσάμι
Serves / Yields : 4 persons
Season:All season
INGREDIENTS
• 120 gr flour
• 225 ml water
• 2 spoons honey
• Oil for frying
• 1 spoon (15 gr) baked sesame seeds
METHOD
Mix the flour, the water and one spoon of honey and make a dough. Heat 2 spoons oil in a frying pan and pour ¼ of the mixture. When it thickens turn it upside down 2 -3 times to fry it in both sides. Prepare 3 more fritters following the given instructions. Serve them hot, pour over the rest of the honey and dredge sesame seeds over them.
Dessert: Portokalia me Meli: Orange Honey Dessert
From
Nancy Gaifyllia
In Greek: πορτοκάλια με μέλι, say: por-toh-KAHL-yah meh MEH-lee
Fresh fruit is a favorite Greek dessert, sweet snack, and a great addition to the breakfast table. It's delicious served alone, but you can dress it up with a drizzle of fabulous Greek honey. Whether you slice the oranges or separate them into pieces, this 1-2-3 recipe (one step, two ingredients, three minutes) adds a lovely touch.
Ingredients:
• oranges (or clementines)
• Greek thyme honey (or other honey of your choice)
.
• OPTIONAL
• ground cinnamon
Preparation:
Peel the oranges, break into pieces (or slice), arrange on a serving dish, and drizzle with honey.
Optionally, add a light sprinkle of ground cinnamon.
Done!
Kali Orexi! Bon Appetite!